We've written several articles comparing various VoIP phone systems, and while those are great reads that will give you an excellent understanding of your options, we also want to do deeper dives on specific providers to help you narrow down your selection. Perhaps a particular virtual phone system has caught your eye. If that was GrassHopper, then you're in luck, because this in-depth exploration is about GrassHopper, and GrassHopper only.
The GrassHopper phone system is a virtual phone service that was uniquely crafted to suit the needs of small businesses in particular. Let's find out what makes GrassHopper so special.
The GrassHopper Business Phone System
At a glance, all virtual phone systems seem to offer more or less the same service. You make calls, you receive calls, it uses VoIP instead of a phone line, and there are some other handy calling features, like caller ID or call routing. How can a company differentiate itself when phone calls themselves are so simple?
Where a virtual phone system really separates itself from the rest is in who they design their phone service for. GrassHopper puts the small business owner first and has built a phone system that tackles the common problems that small businesses face when handling business calls. This is not a system that we would recommend for larger, more established companies that need VoIP phones at every desk or want complex artificial intelligence features.
GrassHopper makes it easy to take business calls on the same devices you use every day, while still keeping your business life separate from your personal life. Flexibility and efficiency were clearly major design tenets for GrassHopper, as their platform is intuitive and using it to make business calls is completely natural. With GrassHopper, you'll never need to use a traditional phone ever again.
How Does a VoIP Phone Service Work?
Is it possible to actually ditch your current phone service completely? Absolutely, and here's how. When you use a virtual phone system, you turn any device with an internet connection into a phone. VoIP lets you make calls over the internet using Wi-Fi or a wired connection.
Nearly every virtual phone system has both mobile and desktop apps so that you can make business and personal calls on whatever device you prefer. You can even use your mobile phone's 4G or 5G data to power your calls. You could literally just ask your mobile phone service to give you a data-only plan and forget about traditional calling forever.
This is exactly what businesses need today. If you're a solo entrepreneur or working with a small team in a startup, the last thing you want to do is call your local phone company and wait for them to install lines and pay their exorbitant fees. Your goal should be to focus on your business and avoid overpaying for inferior service. A VoIP phone system is a no-brainer.
GrassHopper's Virtual Phone System Features
Features are another area where virtual phone systems can distinguish themselves from the pack. While every VoIP phone system should have certain basic features, like unlimited calling and business texting, how they deliver these features is important. GrassHopper uses a cloud-based system that ensures your calls will never be dropped as long as your internet connection is stable.
You manage your GrassHopper phone system through their website by logging in. You can also make changes to your individual experience by using the mobile and desktop apps. GrassHopper is extremely flexible and customizable, so it's certain to work for any type of business. Whether you're running your business out of the back of your car or you've got a small office set up, your business can become a GrassHopper business.
Let's take a closer look at the features that GrassHopper offers, some of which are totally exclusive! Remember, every business phone system is different. Let's find out what makes GrassHopper unique.
Phone Numbers for Every Business
Your phone number is often a first impression. Wouldn't it be nice if it were more than just a random string of numbers? What if you could have toll-free numbers for your clients to call like a big boy enterprise? How about making your business look gigantic with several different phone numbers and extensions, even though you're quietly alone in a spare bedroom?
All of that is possible with the variety of phone numbers that GrassHopper offers. Your business number can be whatever you want it to be.
Vanity Numbers
GrassHopper lets you put some thought and creativity into your phone numbers. If you want your business phone number to stand out and be memorable, then GrassHopper's got what you need. You can request a custom vanity number and if it's available, GrassHopper will get it for you.
Of course, you are somewhat limited by the fact that a phone number must contain 10 digits, but that should give you enough space to figure out how to put your business name in there somewhere.
Local Numbers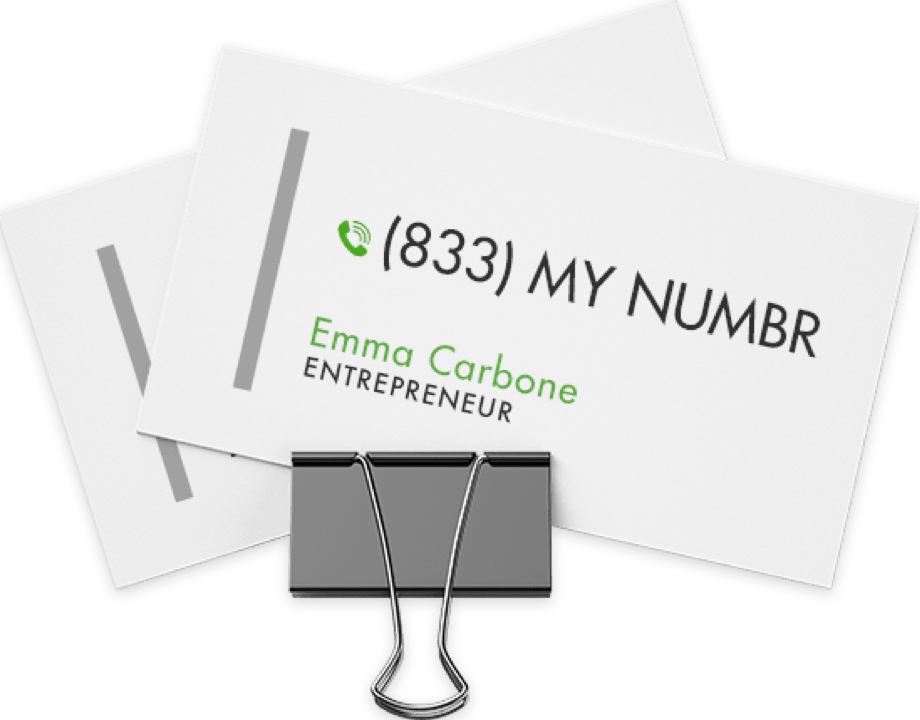 Another thing you can customize is your area code, which means you can get local numbers for your business, even if you don't actually live or work in that location. For example, you might be trying to aggressively target customers in Detroit for your underground car racing event organizing company. But here you are out in Alaska, where people only race dog sleds.
Put a big 313 on your phone number and those Woodward racers will be sure to take your offer more seriously than if they saw a call coming in from Alaska. Using local numbers can actually help you bypass call blockers in some cases as well.
Mobile App and Desktop App for Calls
The desk phone is dead. It had a good run. It'll go down as one of the world's most important inventions, alongside iconic images of presidents placing the most significant calls in history.
But the physical object we call a phone is done for. Now you can call anyone on anything with VoIP. With GrassHopper's mobile app and desktop app, you can take calls any time you want on whatever device you happen to be closest to. Old phones essentially cut off one of your hands or force your neck into uncomfortable cramps, we're honestly surprised nobody has sued over this yet.
GrassHopper has clean apps with all of their features. Their mobile app works on Android and iOS, while the desktop app only works on Windows. However, since most modern Macs allow you to run iOS apps, you can still use the iOS version of GrassHopper's mobile app on your snazzy Mac laptop (or buy a PC and ascend).
Manage Incoming Calls
Calling features are an important part of any virtual phone system. You can do plenty of cool tricks with GrassHopper that you probably couldn't pull off with other providers, and definitely not with your current phone system.
Unlike a boring old landline, incoming calls don't just go straight to the phone they're plugged into. Instead, when someone calls your business number, their call goes up into the GrassHopper cloud, where it can then be beamed down to whatever device or whatever other number you want.
Let's take a closer look at how this works, because honestly it's one of the most useful features and yet is rarely taken advantage of.
Call Forwarding
GrassHopper lets you use call forwarding to your heart's delight. Go nuts. You can set up call forwarding to landlines as well, so if you have one receptionist who's been working since the Nixon administration and insists on using her landline, she can.
GrassHopper takes call forwarding to the next level by giving you extensions with every account. By using extensions, you can give your caller the freedom to redirect their own call. For instance, you could have a single business phone number, but by using three extensions, callers can choose between pressing one for sales, two for customer support, or three for your therapy hotline side hustle.
You can even dictate which device your calls are forwarded to! If you never want to get calls on your PC, but you still want to use the desktop app for text messages, that's entirely possible.
Better Voicemail
If you really, truly, deeply despise someone, leave them a voicemail. Make it a really long and urgent one too for good measure. Voicemail was cool for about a minute, and then we all got sick of it because of just how annoying it is to call into a voicemail system.
With GrassHopper, you get two great features that turn a miserable feature into a useful part of your business. First, there's voicemail transcription. Voicemail transcription uses voice recognition technology to listen to the content of a voice message and then it turns that into text. You can get your voicemail transcription sent to you via email or as a text message if you prefer.
If you don't trust artificial intelligence and would rather they not know about your plan to travel back in time to stop the rise of machines, you can choose to have your voicemails sent to your email as MP3 files.
Business Texting
Business texting is yet another feature you'll never get from a standard phone system. Text messaging is obviously faster and easier to do than actually calling a real person and having to speak to people: who wants to do that? Your virtual phone number has business texting enabled right from the start and you can send as many messages as you want.
You can even configure automatic responses if you miss a call or if a caller gives up after the 30th ring. That instant response can be the difference between a potential client calling your competition, or sticking around for a few minutes so you can call them back and secure the deal.
Virtual Faxing
We'll forgive you for glossing over this section. After all, fax machines are even more dead than the phone. They've reached the zombie phase where, even though they're dead and we all know it, they still occupy space in the office and occasionally cause problems.
Although GrassHopper does not let you send faxes, you can still receive them as PDFs to your email. Your virtual phone number doubles as a fax number, which is pretty convenient. If you've got an old-school client that wants to squeeze every last drop of value out of his ancient fax machine, make his day with this feature.
Add-on Features for Extra Power
All of the features we've mentioned so far are included with every GrassHopper phone plan. However, you might want an extra service GrassHopper provides. GrassHopper works with other companies to provide some of these services for you at a discounted price, while others are just extra features they offer.
Hire Ruby Receptionists
Ruby is a company that provides receptionists for hire. These receptionists are like Uber drivers for your phone number. Whether you use a local number, vanity number, or even a toll-free number, you can set it to route the call to a Ruby receptionist.
The receptionist will pick up the call for you and can read a statement you provide or even redirect calls for you. All you need to do is give Ruby some basic information about your company and who is at the end of each of your extensions, and they'll do the rest.
Hire a Professional Voice Actor
If you want to make a pre-recorded message for your callers, consider using the Voice Studio feature. With Voice Studio, you write the content and GrassHopper will get a professional voice actor to read it out for you. You can even get your message recorded in English and Spanish!
It's a one-time payment and it's totally worth it as it'll impress callers and give your business a more professional sound.
Call Blasting
We love the name of this feature. More companies should take the time to come up with exciting sounding feature names. Call blasting quite literally blasts your office with the sound of ringtones. Every device on every phone number will explode into a cacophony of rings.
This is basically the exact opposite of nuanced call forwarding, but it's a useful feature in certain situations. Perhaps you have a time of day where you get a lot of calls, and you need all hands on deck. Blast those calls for a couple of hours. Maybe you have a VIP client who must be answered instantly. Blast your office to smithereens.
Extra Phone Numbers and Extensions
Each one of GrassHopper's phone plans includes a set of phone numbers and extensions. However, if you want to add an extra number or extension to your plan, you can pay a little more and get the exact quantity you need.
International Calling Plans
GrassHopper transparently publishes its international calling rates, which we greatly appreciate because many companies bury this information in their terms of service, and we all know that nobody reads those.
You can also get in touch with their sales team to ask about a customized plan for your business if you frequently call an international destination.
GrassHopper VoIP Plans for Small Business Customers
GrassHopper stands out from other providers because of how its virtual phone system is priced. See, most of the companies we review use the same pricing model, and it's sometimes a bit deceptive.
Most companies will show you a great low monthly price, but that price is only available if you have hundreds of users signed up. The price is also typically per user, so while you might get a discount for buying in bulk, you're still paying a lot to have multiple users on your plan.
GrassHopper does advertise its prices when you pay annually, which has become something of a trend. But instead of pricing per user, they simply give you different packages that include a mix of numbers and extensions.
Solo Plan
The Solo plan is perfect for Han Solo, which is definitely who it was named after (GrassHopper has not confirmed or denied this). This plan gives you one business number, and you can decide whether you want it to be a vanity number or a toll-free number, whatever floats your boat.
In addition, you'll get three extensions, essentially allowing three people to use the same number, or for you to pretend you have two business partners. Han could have an extension for Chewbacca, and maybe another for Leia. Seems like a perfect fit.
At $312 a year, or $26 a month when you pay the whole year upfront, you get all of the features we mentioned above. The value it adds to your small business greatly exceeds the cost, and it'll definitely be a better alternative than calling up the phone company.
Partner Plan
Triple the numbers, double the extensions. That's what the Partner plan does. Getting three numbers means you can have a few different kinds, for instance, you might make one of them a toll-free number, while another can be your main business phone number. The third can be the top-secret VIP-only number that you give out on black silk business cards.
You might expect the cost to double, or even triple since you're getting at least twice as many calling options as before. Nope, GrassHopper gets more affordable as you go, with their Partner plan priced at $44 a month, or $528 for a full trip around the sun.
Small Business Plan
With this plan, GrassHopper turns the volume up to 11 and gives small businesses plenty to smile about. You'll get five numbers, which is probably more than you'll even know what to do with. How many extensions do you get with those five numbers? You're probably thinking it's like 10, maybe 20.
How about infinity extensions? Unlimited extensions are included with the Small Business Plan, so you can go completely wild with the extensions. GrassHopper's extensions are super flexible: They can be as short as a single digit or several numbers long.
This plan costs $80 a month when paid in full for the year, meaning you'll need to drop $960 at once to get that great rate. While you might balk at the price tag, if you're reading this chances are your business could use it.
Is GrassHopper Good for Small Businesses?
To conclude this GrassHopper review, we have to answer that question with an emphatic yes. GrassHopper's whole phone system is built to provide small businesses with the tools they need to become bigger businesses. Even if your business grows considerably, you could still rely on GrassHopper by adding more numbers as needed.
Their apps are extremely easy to use and won't pose a challenge to even the most technologically adverse small business owner. The system works seamlessly with your existing phone numbers as well, so you don't have to worry about losing contacts or switching numbers.
Ask GrassHopper for a free trial and download the software today to see what it can do.